AAMT, the Australian Association of Mathematics Teachers, has an international reputation for supporting innovation and excellence in mathematics teaching. Badsey Publications is pleased to offer a small selection from the AAMT catalogue for sale in the UK and Europe.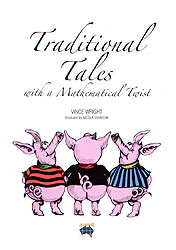 Age 9 to 14 years
Classroom material
Instructional methods
Vince Wright
University of Waikato (NZ), 1996
56 pp, spiral-bound
ISBN-10: 1-875900-57-8
ISBN-13: 978-1-875900-57-2
Price £13
(UK & Europe only)
When you have finished, go to the ordering page to check our other products and complete your order.
Traditional Tales with a Mathematical Twist
Introduces a new and somewhat different angle to 22 popular children's stories such as Little Red Riding Hood, Sleeping Beauty, Three Little Pigs, Cinderella, and many others. These humourous interpretations are followed by activities for students to work on in groups or individually. Includes photocopy masters as well as teaching notes that outline learning outcomes, the mathematics involved, equipment and assessment ideas. A useful addition to your school's teacher resource collection.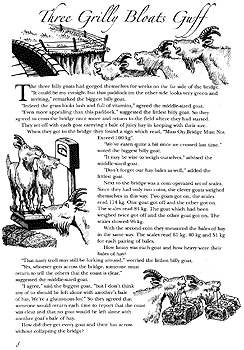 Page example
CONTENTS
Introduction
Little Red-eyed Riding Hood
Three Grilly Bloats Guff
A Great Little Number
Kiss and Tell
Hair, There and Everywhere
Swan Lake
Stitches to Riches
Fair Smack on Top of Jack
Loafing About
A Thumble Abode
Over Eager Ogre
An Age-Old Problem
A Turnip for the Books
Dough
Breaking and Entering
Second Guess
Little Jobs Around the House
Pea-ed Off!
Sizzle and Crackle
A Highly Strung Wolf
Three Little Pigs
Cinderella Puts Her Foot in It
Resource Sheets